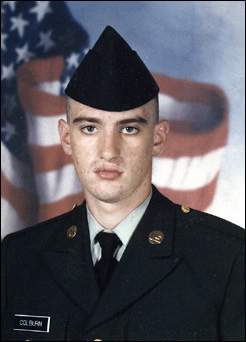 Honoring the The 10TH Anniversary/ In Loving Memoriam of Specialist Gavin J. Colburn
Specialist Gavin J. Colburn was born 24 January 1985, in Washington Court House, Ohio. Spc. Colburn enlisted in the United States Army on 14 January 2003 as an 88M, Motor Transport Operator and attended Basic Training and Advanced Individual Training at Fort Leonard Wood, Missouri. Spc Colburn's assignments include: 656th Transportation Company, Springfield, Ohio and 542nd Transportation Company, Kingsbury, Indiana.
Specialist Coldurn's awards and decorations include, the Global War on Terrorism Service Medal, the National Defense Service Medal, Iraqi Campaign Medal, Armed Forces Reserve Medal with M Device and Army Reserve Ribbon. Specialist Colburn is being recommended for a Bronze Star and Purple Heart.
Specialist Colburn is survived by his mother, Tina Stevens, Father, Tony Colburn, brother Matthew Colburn and fiancee Sarah Kern.
Specialist Colburn is in everyway an American Hero, not for how he died but for how he lived.
No Hero
Taken away, Now today, A broken world is here, Now and again and again with a tear, Now what is left but to say, "The Hero fell forever today, His loss is marked we shall say," The shadows of our world they gloom, The end is near and on comes our doom, Not everyone may win the day, Not everyone can always say, "The hero won the frightful hate, The world we know is not longer desolate, The time we have is now free from fear, So rejoice with love thy loved ones near," The hope we may lose in the coming days, The terror runs and beats us in our frays, The anxiety displayed we know about, for we know we can only shout, "A hero cannot help me now, A hero is not what I should endow, He will die and I am now done, Regardless of how far I may run"
Veterans, Friends and Family gather for The 10TH Year, to rememeber and Honor a True HERO !